Welcome! We are glad that you have taken the time to view our website! We hope that each time you visit our website or personally worship with us, you will see and sense our deep desire to know, and to make known, our blessed God and Savior, Jesus Christ. In January, 2016 we completed a one year verse-by-verse journey through the book of Hebrews, and began a verse-by-verse study through the book of 1 John.
Our Sunday morning worship service begins at 10am and is followed
by a
meal and a time of fellowship. We encourage you to stay and be our guest at the meal, as we enjoy a wonderful time of fellowship with each other. In addition, we also meet Wednesday's at 7pm where we recently began a comprehensive verse-by-verse study through the book of Isaiah. Other recent studies include the Women's Bible Study, True Woman 101 by Mary Kassian and Nancy Leigh Demoss, while the Men recently studied The Master's Plan for the Church by John MacArthur. We look forward to having you join us for Worship and Bible Study in the near future!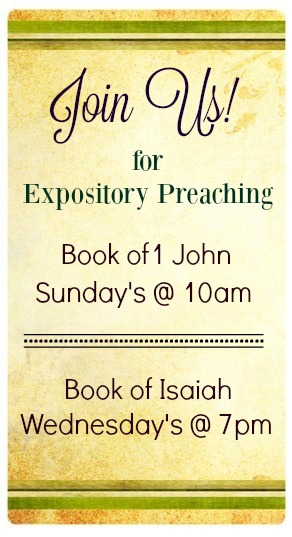 "A lot is happening at a very rapid rate. This country talks a lot about terrorist attacks—and rightly so. Almost anybody in America can give you some kind of a listing of the most destructive acts of terror that have happened in our country. But let me suggest to you this: The two greatest attacks of terror on America were perpetrated by the Supreme Court. Not by any Muslim, but by the Supreme Court of the United States. The first one was the legalizing of abortion. Subsequent to that, there have been millions of babies slaughtered in the wombs of their mothers. It's incalculable to even comprehend that. The blood of those lives cries out from the ground for divine vengeance on this nation.
The second great act of terror perpetrated by the Supreme Court was the legalization of same-sex marriage. The destruction of human life in the womb—in a sense, the destruction of motherhood—and now the destruction of the family itself. No bomb, no explosion, no attack, and no assault on people physically can come anywhere near that kind of terrorism. Our country is being terrorized by the people most responsible to protect it—those who are to uphold the law."
Join John MacArthur as he adds some of his own insights and perceptions,
and then directs you to a particular portion of Scripture.
.
The mission of Crosspoint Fellowship is to glorify God
by daily proclaiming and living the truth in the name of Jesus.